Interstitial Soil Gas Probe
The GeoFrontiers Model 204 Soil Gas Probe was developed for collecting low-volume soil gas samples needed for petroleum exploration. Resulting from extensive lab tests and field trials, the Model 204 is durable, easily transported, and user friendly.
During use, the Model 204 is coupled to a 4.5 kg (10 lb) manual slide hammer and driven into the soil. Upon reaching sample depth, a soil gas sample is collected using a hypodermic syringe, transferred into an evacuated vial, and shipped to GeoFrontiers for analysis.
The Soil Gas Probe is designed for reconnaissance surveys, areas that are inaccessible by vehicles, and locations difficult to reach with larger equipment. Almost anyone with minimal training can collect cost effective, quality samples using the Model 204.
Soil Gas Probes are available for loan in the USA. Contact us about using the Model 204 Soil Gas Probe in other countries. Probes are portable and can be shipped anywhere in the world.
Click here to download the illustrated soil gas probe instructions (PDF Format) (15 MB).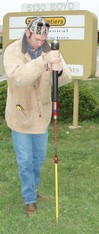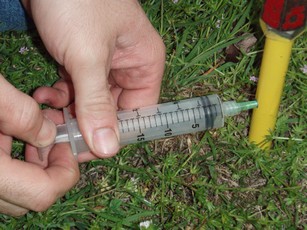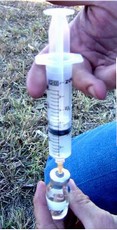 The Model 204 Soil Gas Probe was developed using improvements from previous probe models. In order to test new designs GeoFrontiers developed a machine to simulate severe field conditions in a controlled reproducible environment. The probe testing machine earned the nickname "ProbeZilla" because it stands about 3.5 m (12 feet) tall and it produces the most severe case of hammering of a probe into solid rock (simulated by concrete). ProbeZilla gives us a way to perform accelerated lifetime tests on new designs.